ARE YOU FRUSTRATED BY:
Cold, unfriendly service?
Spending hours sitting in the waiting room?
People who never answer the phone or return your calls?
Talking to a provider who just won't listen?
Offices so dingy that you wonder if they ever even clean anything?
BLUE RIDGE SCIENTIFIC IS DIFFERENT
At Blue Ridge Scientific, we believe that you shouldn't have to sit in a dirty, worn out office waiting forever or deal with unfriendly staff that sees you as an inconvenience.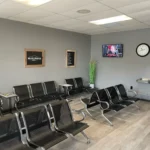 EXTREMELY
FAST SERVICE

Your time is enormously valuable. That's why we're hyper-focused on getting you in and out of the office as fast as we can.

With wait times this short, you can leave your book at home.
AN INCREDIBLY FRIENDLY STAFF

We value you and your business, and we show it.
From the second you walk through the door to the minute you leave, we want you to feel comfortable and appreciated.

And if you hate being stuck by needles, don't worry! Our staff will make sure you're as comfortable as possible.
A CLEAN,
BEAUTIFUL OFFICE

We designed our office to be both beautiful and comfortable. Most importantly, we keep everything ultra clean so you never have to worry about your health and safety. 

Visit us once, and then we'll be the only place you'll want to go for your testing and physicals
Services
WE GET PEOPLE READY FOR WORK
Whether you need a physical, drug and alcohol screening, or more, Blue Ridge Scientific is here for you!
We have solutions for Individuals and Businesses.
Don't take our Word For it
A+ REVIEWS FROM OUR A+ CLIENTS
"The care I received here was outstanding!! I was able to make an appointment online quickly and easily. Check in was online and simple. I needed multiple things done and the nurse was wonderful and put me at ease immediately. Highly recommend!!! "
Mack Mcguire
Lynchburg, VA
"Very clean and professional, quick appointment turn around time and quick in and out. Went for drug screen, physical, vaccinations, and titers and was out in less than an hour.👌🏾"
Ellyn Garzon
Lynchburg, VA
"If you need your child's sports physical done for the year, go here! Skip the long wait times at MedExpress or other similar walk in offices and go straight here. We were in and out within 30 minutes and very pleased with the service we received. We will definitely be using Blue Ridge Scientific in the future for all physicals!"
Nelson Bryant
Lynchburg, VA
GETTING YOUR TESTING AND PHYSICALS COULDN'T BE EASIER!
Choose Your Service
Walk-In or Schedule and Appointment
See a Provider
Our staff will take good care of you and have you in and out as quickly as possible.
Get Your Results
Our team will ensure that your results are fast, accurate and reliable.
our team
Meet Our Friendly and Helpful Team
Ready to Get a Picture of your health?
Check out our Snapshot Health and Wellness Panels!